Independent Living Solutions, Inc. 
6225 W. 48th Ave. #108,
Wheat Ridge, Colorado 80033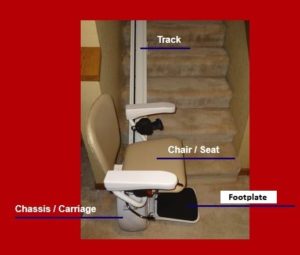 A stair lift is a chair (seat) and a footrest (footplate) that sits on top of a chassis (or carriage) which is connected to a track. The track lays on the edge or nose of the stairs and is attached to the stair tread (not the wall). Stair lifts are suitable for riders who are capable of bearing weight, sitting and standing, or who have assistance in that process. Stair lifts are often the most cost effective lift to provide access from one level to another.
Independent Living Solution, Inc. provides state-of-the-art stair lifts to anyone who faces difficulty moving from floor to floor within their home. Based in Wheat Ridge, Colorado, we have over 20 years combined experience serving people with in home accessibility challenges who's home are located in Metro Denver and up and down the Front Range.  Besides providing top-notch New and Recycled stair lifts in Denver from renowned manufacturers who offer superior engineering and product reliability, we provide professional installation of equipment in your home backed by our one-year labor warranty. After the installation of a stair lift in your home, we aim to provide you with a hassle-free experience when you use our product. To ensure that, we offer excellent customer support, necessary repairs with the parts provided under the manufacturer's warranty, preventative maintenance and service plans. No matter what issue you may face when using our product, we make sure you receive the best possible solution. Your satisfaction alongside the freedom to safely navigate your home is our mission.
To make your home fully accessible, we primarily provide these stair lift types:
Straight Stair lift
Our cutting-edge straight stair lifts feature a smooth start and stop mechanism that enables you to effortlessly glide up and down the stairs. They fit seamlessly into any home with a straight staircase, eliminating the need for home renovation and related expenses. Also, they come with reliable safety features, such as a seat belt, power footrest, power seat swivel, manual and power folding hinges and easy-to-use controls.
Our straight stair lifts are designed to perfectly fit every home with a straight staircase and are used by:
The elderly
Physically disabled
People with arthritis or joint pain
 Injured
To know more about our straight stair lifts, visit our Straight Stair lift page.
Curved Stair lift
In homes with a curved staircase, installing a stair lift is tricky because of the curved nature of the staircase and joining walls. To make such homes fully accessible for people with reduced mobility, we provide state-of-the-art curved stair lifts that fit perfectly into any staircase that makes a turn, enabling the user to get on at one floor and move to the next floor. Coming with all the safety features, they provide a smooth and stable ride. Also, with our full line of curved stair lifts that are custom made to suit your exact home needs, you may be able to reach multiple floors and  regain independence.
Curved Stair lifts Options:
Horizontal overrun at top or bottom
90 or 180-degree park stations
Intermediate park stations
Power folding hinge
Choice of upholstery colors
To know more about our curved stair lifts, visit Curved Stair lifts page.
Benefits of Stair lifts by Independent Living Solutions, Inc.
Comfortable Ride
Our stair lifts are carefully engineered to provide a smooth and stable ride to people with mobility issues. They are equipped with cushioned seats, armrests, back and footrests for enhanced comfort.
Safety
When using a stair lift, safety is a major concern. To provide the utmost safety, our stair lifts come with safety sensors that activate an emergency stop when they sense danger. Plus, in an effort to maximize ease of use, extra features such as a retractable seat belt, power footrest, power seat swivel, and others are provided.
Space Efficient
To maximize the walking space on the stairs for family, friends, and pets, our stair lifts are designed to hug the corners and turns as tightly as possible.
Easy to Use
Our each stair lift model is equipped with an easy-to-use control switch so that you can operate it without hassles and move safely from floor to floor.
Improved mobility
For those with mobility issues, moving from one floor to another is challenging and risky. However, our complete selection of stair lifts makes it easy and fun, offering complete independence and home accessibility to its users.
Why Buy a Stair lift From Us?
We are a locally owned and operated business with over 20 years combined experience.
We provide mobility equipment from a variety of top manufacturers who specialize in superior engineering and product reliability.
As a full-service dealer, we install and service everything we sell.
We provide professional installation backed by a one-year labor warranty on all new installations.
 We repair the parts provided under the manufacturer's warranty.
We offer Preventative Maintenance and Service Plans
We have a local showroom, making it easy for you to find us
We stock many refurbished stair lifts and new stair lifts in Denver, Colorado along with wheelchair lifts, and other equipment.
 We service the Denver area and the Front Range
Feel free to get in touch today and let us make your home fully accessible!