Independent Living Solutions, Inc. 
6225 W. 48th Ave. #108,
Wheat Ridge, Colorado 80033
A ceiling lift system consists of an overhead motor that connects to either a portable overhead track or a stationary track which attaches to the ceiling. A carrying device (either a sling or a lifter) connects to a motor and holds the user of the lift. The user or caregiver is then able to transfer to any point on the track. Once the destination point is reached, the user can be raised or lowered. The most common transfers are from and to the bed, wheelchair, chair, toilet and shower.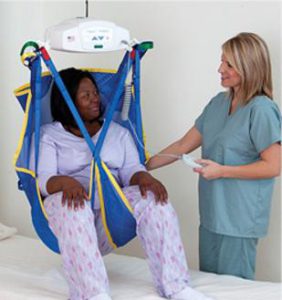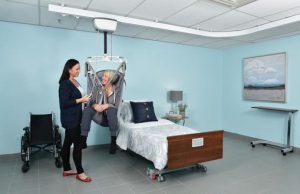 TWO AND FOUR WAY CEILING LIFT MOTORS
All ceiling lift motors lift up and down – this is referred to as a 2 way motor. If the lift user has very little use of arms, legs, torso, neck and head control this motor is the most practical, cost effective solution. In this situation the lift user would require a caregiver to put on and remove the sling as well as operate the lift. With a 2 way ceiling lift motor, the user will require a caregiver to move them to different points throughout the track system.
A 4 way ceiling lift motor raises and lowers the lift user and can propel itself throughout the track system. This allows the user to transfer themselves to any desired location on the track, without requiring a caregiver's help to move from one point to another. With a 4 way ceiling lift motor, a user that has adequate use of their arms, torso, neck and head, and is able to place and remove themselves from the sling, can live a more independent lifestyle without needing assistance when using their ceiling lift. ​