Independent Living Solutions, Inc.
6225 W. 48th Ave. #108,
Wheat Ridge, Colorado 80033
info@independentliving
solutionsinc.com
Curved Stair Lifts are continuous. They allow the rider to get on at one floor and ride the stairlift all the way to the next floor, even if the staircase makes turns or curves. It is even possible to reach multiple floors with a curved stair lift. They are the only stair lift option if the walls of the staircase curve. The track is custom made for each staircase using state of the art technology. This process ensures the best possible fit. These stair lifts are particularly practical when there are two or more turns on the staircase or access is needed for multiple levels of the home.​
180 Park StationHorizontal Top Overrun
OPTIONS FOR CURVED STAIR LIFTS:
Horizontal overrun at top or bottom
90 or 180 degree park stations
Intermediate park stations
Power folding hinge
Choice of upholstery colors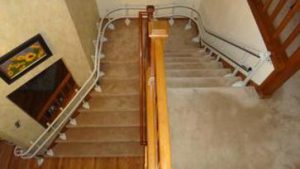 Are you interested? Call us now at

+1(303) 463-8200

!