Independent Living Solutions, Inc. 
6225 W. 48th Ave. #108,
Wheat Ridge, Colorado 80033
POWER LIFT RECLINER CHAIRS
Power Lift Recliner Chairs allow a person to use a remote control to move a recliner chair to a laid back position with feet up, and also to raise the recliner to a semi standing postion. They come in a variety of sizes, fabrics and colors. They also have heat and massage options.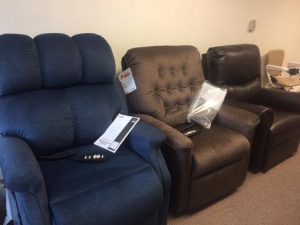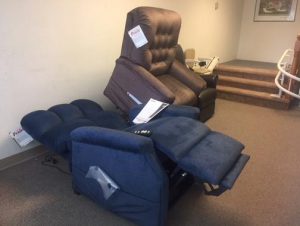 Our power lift recliner chairs are an ideal solution for anyone who struggles to get in and out of a chair because of their mobility issues. These chairs gently raise you from a sitting to standing position, helping you sit and stand comfortably & independently. They come with a remote control system that helps move the chair to different positions, from a laid-back recliner position with feet up to a sitting position to a semi-standing position. They are available in a variety of sizes, fabrics, and colors. What's more, they also have heat and massage options for the best relaxation time at home.
How Independent Living Solutions, Inc. helps?
Independent Living Solutions, Inc. has the largest collection of cutting-edge power lift chairs in Denver, Colorado, enabling you to buy a chair that best-fits your mobility needs and home decor. Our lift chairs are renowned for their excellent engineering and product reliability.
At our store in Wheat Ridge, Colorado, we carry the latest models of power lift chairs and other mobility equipment to help people with reduced mobility move around safely and comfortably. We offer a diverse selection of lift chairs which can be delivered to your home.
We, at Independent Living Solutions, Inc., understand the importance of offering a good user experience and maintaining excellent customer relationships. To ensure that, we continue to serve you with:
exceptional customer support
necessary repairs and replacement for parts under the manufacturer's warranty
routine maintenance and service plans
assistance with any issue while using our product
Who Should Consider a Power Lift Chair?
Anyone who struggles to get in and out of a chair should consider buying a power lift chair for sale. They include:
Seniors aging in place
People with limited mobility
Injured and those suffering from joint/knee/hip pain
Children with special needs
What should you consider in a power lift chair?
Ideally, you should take three factors into account when buying a power lift chair for sale, and they are:
Chair Size and strength
Ensuring that the chair perfectly fits the person who will use it is of the utmost importance. If your feet do not touch the floor when sitting in it, you may not be able to benefit from it or use it correctly. So, when buying a chair, make sure that your feet meet the floor when sitting, and its seat should be wide enough to enable you to sit comfortably. Plus, the top of the headrest should be a couple of inches above where your head rests for maximum head support. Chair strength is another crucial factor to consider as a heavy user may require a chair with more weight capacity for the safety of both the chair and the user.
Sleep
Often, people who are recovering from a serious injury or surgery want a power lift recliner chair in which they can sleep. We offer every type of power lift chair that adjusts to any desired position.
Pain management
Many people who are confined to a chair have trouble getting comfortable primarily because of conditions that cause pain. For those, a Zero-Gravity, Infinite Position or Trendelenburg position lift chair may be the best solution. If you have chronic pain, ask your chiropractor or medical provider to know which type recliner can be an effective pain management option for you.
Additionally, you go choose from different types of fabrics, color, and material to suit your budget and home decor.
Types of Power Lift Chairs
Lift chairs in Denver primarily come in these models, each coming with the option of raising it to the standing position:
2-position lift chair (seated and relaxing position)
3-position lift chair (seated, relaxing and napping position)
Infinite position lift chairs (napping and sleeping position, enables the seat back and footrest to move independently from the other offering a variety of positions)
Trendelenburg position lift chairs (Elevates users feet higher than the head for increased comfort and relaxation)
Zero-gravity lift chairs (positions users thighs and lower legs, higher than the torso)
Why Buy a Power Chair From Us?
Our 20 years of combined expertise in the industry has helped us deliver unparalleled quality of service to our customers. We have been helping the residents of Denver, Colorado, and its bordering areas by:
Delivering quality mobility equipment from top manufacturers to their home
installing and servicing everything we sell
Providing in home set up supported by a one-year labor warranty
repairing and replacing parts under the manufacturer's warranty
offering Preventative Maintenance and Service Plans
We also have a local showroom in Wheat Ridge, Colorado where we stock used mobility equipment to suit every budget. Feel free to get in touch with us today!