Stair Lifts for Sale – New, Used, Chair Lifts and more!!
Independent Living Solutions, Inc is a Colorado-based in-home accessibility equipment dealer offering new and refurbished stairlifts for specially-abled individuals to help them traverse the stairs safely, smoothly, and independently. We understand how difficult it is for the elderly and those with limited mobility to navigate stairs at home. To make it easier for them, we have straight stairlifts in Denver for each and every space and budget to boost mobility and decrease the likelihood of stair slips and trips.
In addition to manufacturing the sector's finest, most space-saving stairlifts, Independent Living Solutions, Inc. exclusively services all clients through its well-developed network. Let's first understand what these chairs for stairs are all about.
A stair lift is a mechanized chair that moves along a rail that is attached to the stair treads. A stair lift is the most affordable and straightforward way to make your home more accessible and safe for family members with limited mobility. Simple stair lifts, also known as stair chairs, can access up to two floors. On the other hand, a curved stairlift can be installed and used to traverse more difficult staircases and even ascend higher than two floors. We will discuss the two in detail further. However, know that installing either stair lift will remove the "stairs" obstacle and significantly lower your risk of falling. A battery-powered motor in a stair lift is automatically charged either in charging stations mounted on the rail at the top and bottom landings or through the rail itself. Thanks to the battery system, the lift can be used numerous times, even during a power outage.
Benefits Of Stair Lifts For Seniors
Stair Lift Provides Access To The Rest Of Your Home
Seniors and those with disabilities will be freer if a stairlift is installed in their homes.If going up and down stairs has become challenging, you may only be residing in the lower level of your home. Or perhaps, you only use the stairs once a day to go to bed and stay there until the morning. You will have more freedom if you invest in a stairlift since you can move your bedroom back upstairs and visit the upstairs or downstairs areas of your home whenever you need to. Without the stairs being a barrier, you may enjoy using your home as you once could.
As you know, for the elderly or anyone with mobility issues, staircases can be dangerous because they commonly lead to trips and falls. Therefore, safety is the most crucial concern you solve if you buy any stairlift. Since the stairs are among the most frequent places with a high risk for a fall, using a motorized chair to move from floor to floor lowers the risk of getting hurt at home. Therefore, if anyone with mobility issues strolls up or down a stairway unsupervised, it can result in a broken hip, leg, or several other serious injuries if one step is missed. Thus, whether new or used, stairlifts provide a safer means and ease the concerns of other family members, giving them peace of mind. But usually, when you buy stair lifts, the designs are created essentially the same by all manufacturers, i.e., there is a seat on a mechanized carrier and a travel rail on the stairway. Then how do you know which one is right for you? On this website, we offer some helpful advice on how to choose the best stairlift for your requirements and staircase design. But first, what are the types of chairlifts available for sale? Read on.
The Different Types of Chair Lifts for Stairs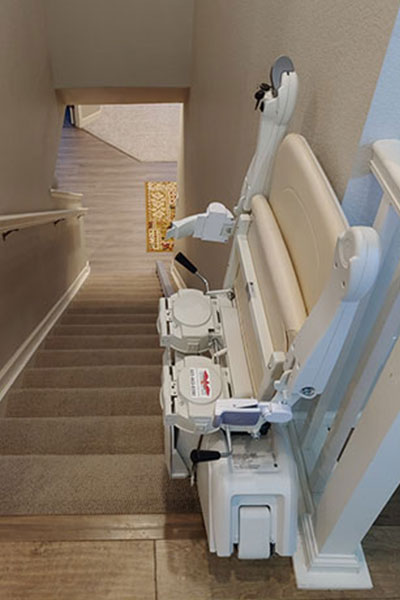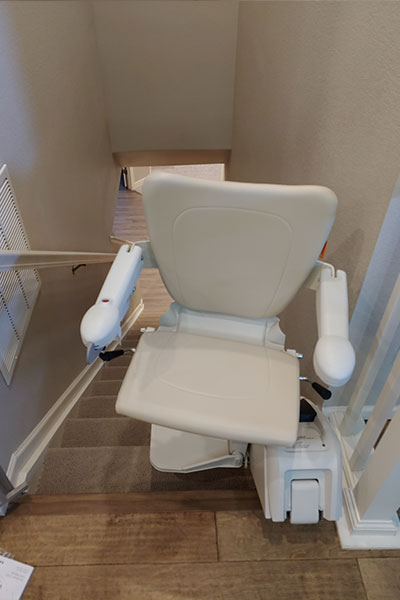 Straight Stairlifts
The most popular and affordable model is a straight stair lift for an indoor staircase. A standard rail that can be cut to fit any typical straight staircase is included with straight stairlifts. Thanks to the smooth start and stop mechanism on our premium straight stairlifts, you can easily glide up and down the stairs. They eliminate the need for home renovations and related costs by blending in seamlessly with any house with a straight staircase.
Additionally, they offer secure access to various floors and have dependable safety features to prevent slipping and falling. Besides, straight stairlifts are the easiest to install and can give you access to a basement laundry room or an upstairs bedroom once again.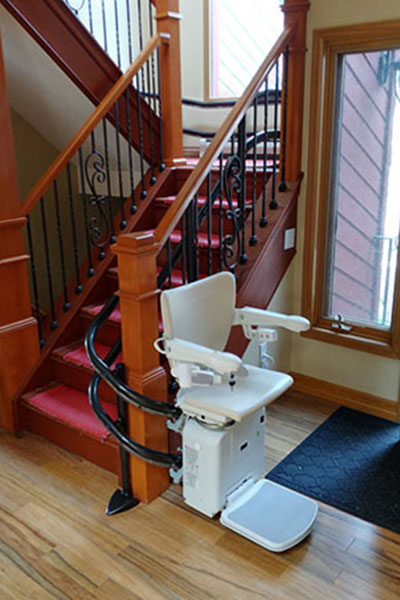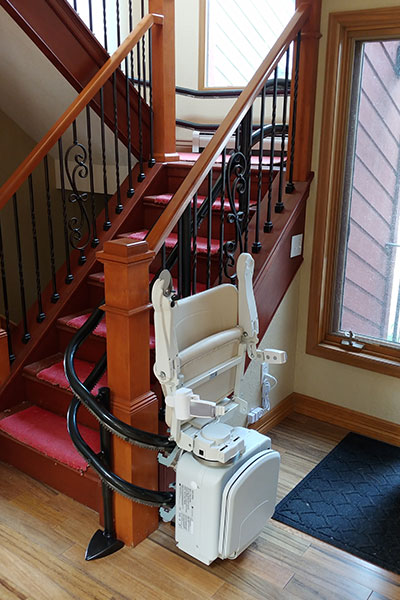 Curved Stairlifts
A custom curved stair lift is needed to reach a higher floor level of a home if a staircase has curves, turns, or intermediate landings. The manufacturers build the rails specifically for the curved staircase.
To guarantee that the rail is constructed to fit the design of your staircase precisely, manufacturers employ a sophisticated photosystem. Now that you know the types, the next question often arises is: whether you should go for a new or refurbished chairlift. Here's what you need to know:
Many customers shopping for a stairlift would prefer to purchase a new unit over a used model. This logic is understandable since there are several advantages to buying new, including:
No wear and tear on motor parts and components
Less likely to have service issues
Latest technology and features
Covered by a comprehensive manufacturer's warranty
A new standard straight stairlift comes with a hefty price tag and will cost between $3,700 and $5,000 including professional installation. A curved stairlift will likely start around the $12,000 range due to the custom curved rail manufactured to have a precise fit to your staircase. A custom curved rail is necessary, so a new unit is likely your only option if you have a curved staircase. On the other hand, a pre-owned or used straight lift for stairs will typically cost between $2,500 and $2,700 with professional installation.
How Much Does A Used Stair Lift Cost?
Straight Stair Lift Pricing: For a straight staircase, the price of a stair lift typically ranges from $2,200 to $8,000 (new or used), depending on the model, year, and other factors, as we previously discussed.
Curved Stair Lift Pricing: The stair lift track needs to be custom made to fit your staircase if it is curved or straight with an intermediate landing. The price will consequently be considerably higher. The cost of a curved stair lift starts at $12,000 and goes up from there, depending on where you live. The configuration of the staircase and any additional features you choose to include to increase user comfort or coordinate with the decor of your home.
In the end, it all comes down to your needs. When deciding which option is right for you, consider your budget and how that aligns with your wants and needs. If you think that you'll use the lift for its entire lifespan or there are must-have features not available on the used market, it is wise to consider buying a new lift. If you have a limited budget or the lift's features are less important to you, a used lift might be the right solution.
Benefits of Stair lifts by Independent Living Solutions, Inc.

Comfortable Ride
Our stair lifts are carefully engineered to provide a smooth and stable ride to people with mobility issues. They are equipped with cushioned seats, armrests, back and footrests for enhanced comfort.

Safety
When using a stair lift, safety is a major concern. To provide the utmost safety, our stair lifts come with safety sensors that activate an emergency stop when they sense danger. Plus, in an effort to maximize ease of use, extra features such as a retractable seat belt, power footrest, power seat swivel, and others are provided.

Space Efficient
To maximize the walking space on the stairs for family, friends, and pets, our stair lifts are designed to hug the corners and turn as tightly as possible.

Easy to Use
Our each stair lift model is equipped with an easy-to-use control switch so that you can operate it without hassles and move safely from floor to floor.

Improved mobility
For those with mobility issues, moving from one floor to another is challenging and risky. However, our complete selection of stair lifts makes it easy and fun, offering complete independence and home accessibility to its users.
Independent Living Solutions Stair Lift | FAQ.
How much is a chair that goes up the stairs?
"How much does a stair lift cost?" is a common question that we encounter. It depends, is our answer. The price of a stair lift depends on several factors, including the stairway's shape (straight or curved), whether you purchase a new or used unit, and where you purchase it.
Description
Stairlift
Cost
Straight Stair Lifts

The most popular style of stairlift
Easily installed
Some have certifications for use outside.

$2,500 – $5,000
Curved Stair Lift

Explicity built to go around curved landings or staircases
More challenging installation

Over $10,000
Heavy Duty Straight Stair Lift

Hold the extra weight
Best for those who can't walk or have limited mobility

$3,000 – $5,000
Standing Stairlift

Ideal for those with hip or joint problems
Enables passenger to lean or sit partially while moving.

$3,000 – $7,000
A stairlift is the most affordable option for people who can no longer use the stairs when compared to alternatives like moving to a one-story home or a senior Living facility. According to AssistedLiving.org, you would pay between $1,500 and $ 4,000 monthly if you moved into a senior living facility. Assisted living facilities are even more expensive, costing between $3,500 and $10,500 monthly. A stair lift can pay for itself in a matter of months. You will also benefit from continuing to live in the house and neighborhood you have come to know and love with the installation of a stair lift.
How much does a second-hand stairlift cost in Denver?
In Denver, the price range for a typical refurbished stair chair lift is $2,000 to $5,000. The features of the stairlift and the staircase's length affect the price. For instance, stairs with 10 steps will cost significantly less than stairs with 20 steps and curved track raise the cost. Another cost is for outdoor stairlifts to be weatherproofed. For their products, many manufacturers provide financing options or payment plans.
Are second-hand stairlifts worth anything?
The answer is unequivocally, yes! The advantages of mobility aids can frequently transform lives, perhaps even yours. For instance, investing in a used stairlift promises returns far beyond financial gain. Time, safety, and autonomy are a few additional advantages and returns.
Is it safe to buy a second-hand stairlift?
When using a stair lift, you're essentially putting your safety in the hands of the machinery. Consequently, we are sensitive to customers' concerns when they inquire about used stair lifts and make every effort to ease them. Depending on the dealer you purchase from, used stairlifts can be as good as brand-new ones. At Independent Living Solutions, we uphold the standard that all used mobility equipment should adhere to. Here are a few benefits:
Less expensive
Almost equivalent to new
Top brands selling used chair lift for stairs are built to last.
Delivery and installation are included.
In general, if you can find a specific model to suit your needs, buying a used stair lift is an excellent way to save a good amount of money.
Are stairlifts covered by Medicare?
Medicare never covers the cost of any stairlifts, but you can always check with your insurance provider to see if you can pay for installing a stair lift out of a flexible spending or health savings account. Contact the Department of Veterans Affairs for assistance in purchasing a stair chair lift in Denver if you are a veteran injured while serving in the military.
Does Medicare Advantage cover stairlifts?
Medicare does not cover stairlift costs. Medically necessary or durable medical equipment (DME) that your doctor prescribes for use at home is covered by Medicare Part B (Medical Insurance). Additionally, Medicare supplement plans, also known as Medigap plans, only cover out-of-pocket expenses for goods and services that original Medicare does not cover.
Alternatively, you might be able to save money by renting or buying a used stairlift rather than a brand-new one. Waivers for Medicaid's Home and Community-Based Services (HCBS) have made it possible for seniors to receive these benefits in their own homes or neighborhood. These exemptions enable people to lead an everyday life and will contribute to the cost of home modifications like stairlifts.
Who is eligible for a free stairlift?
It's probably true if something sounds too good to be true. How is it plausible to qualify for a free stairlift? This is where it's crucial to remember that you can't believe everything you read when it comes to purchasing mobility devices for your own home. Many vendors may lead customers to believe this is possible, if not common, but as we said: Not True! Free stairlifts are a fluke, but there are ways to get a suitable stairlift without spending a lot of money, like:
Insurance
Although every person's insurance is unique, generally speaking, medicare standards do not cover the expense of a stairlift as we have already discussed before. Therefore, home health care insurance coverage that covers equipment and home care in the event of a disability, injury, or illness is the best way to guarantee coverage of these life-changing devices.
Can you get grants for stairlifts?
Some states offer financial assistance for installing stairlifts as part of their home modification funding programs for the elderly or the disabled. By contacting your neighborhood Department of Housing and Urban Development office, you can learn more about these home modification grants. Despite the limited funding, it is worthwhile to investigate. Local groups in some states may also be able to help with the cost of medical equipment purchases. To purchase a stairlift for your house, you can also investigate additional funding options, such as:
Local Area Agencies on Ageing
Area Agencies on Aging(AAA) is a network of over 600 organizations that serve the elderly population. They provide assistance with funding program applications and are a great source of information and support. Additionally, the AAAs can help you financially because they receive direct federal funding through the Older American Act.
Other resources
The following organizations can provide you with helpful information and support to help you find the right grant:
Stairlifts are not only helpful; they are a necessity for many people. Even though it might not be simple to find the money to install one, funding options and financial assistance are available, as we discussed. Call us immediately to speak with a helpful expert who can assist you in choosing the best stairlift for your home and installing it quickly.