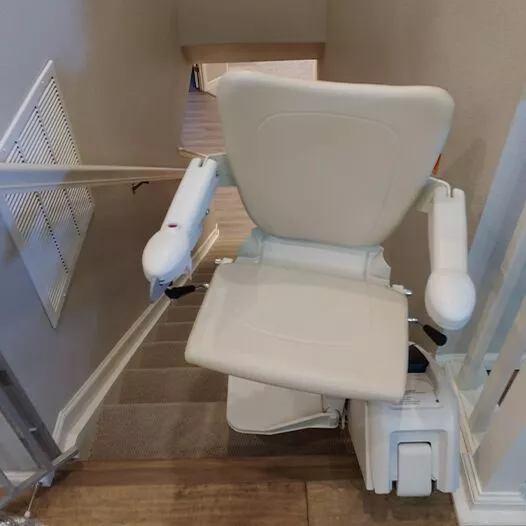 Mobility issues can make climbing stairs quite difficult. In cases of severe arthritis, stroke residual effects, or other disabling causes, accessing the upper floors of the house becomes nearly impossible. A lift chair for the disabled can solve this problem and allow you to access every part of your home safely. Stairway lifts, which can go around corners, are available at Independent Living Solutions, so the curved staircases common in historic homes are no problem for us.
When compared to alternatives such as assisted living or new construction, used wheelchair lifts for stairs are one of the most affordable and practical options. However, use causes wear and tear, so regular maintenance is necessary to keep your device in good working order and to extend its lifespan. Follow these guidelines to keep your chairlift in good working order for many years.
Keep It Clean
A crucial aspect of preserving the track's lifespan is cleaning it. Wipe the track and seat with a duster or damp (not wet) cloth at least once a week. This keeps dust and dirt at bay. Inspect the track to ensure there are no cracks or breaks, and make sure to turn off the device before cleaning it.
To protect the painted coatings, clean the wheelchair lift platform body on a regular basis with mild detergent and completely dry it. This is especially important for lifts installed in saline soil outdoor areas.
Regular Safety Inspections
You should inspect your reconditioned wheelchair lift on a regular basis for new noises, loose bolts, and worn threads.
Check that the platform is stable at normal travel speed, or calibrate it right away.
Check that any cable connectors are both securely fastened and in good condition.
Check that all buttons and levers are in good working order.
Check the tightness of all mounting bolts and screws. Make any necessary changes.
You will not need to lubricate the rail or any other parts because this is done on a service basis by an engineer only when necessary. Attempting to do maintenance on your device yourself by slathering the rail with excessive grease, WD40, or oil can cause complications and bring more harm than good. There is no need for you to do lubrication, simply leave it to us to check on the yearly service. Only a competent engineer who has been professionally educated to maintain your product should do so.
Reconditioned Wheelchair Lifts From Independent Living Solutions
To ensure that the used chairlift you invested in is in good condition, you need to buy from a reliable source. At Independent Living Solutions, we ensure that you are satisfied with your device. For this very reason, we install them in your home or other space plus offer a one-year labor warranty on installation.
We also provide prompt customer support, preventative maintenance & service plans, necessary and no-cost repairs for parts that come under warranty and assistance with any issue you may face.
To place an order with us for used wheelchair lifts for stairs, check out our website.